Samsung's vice chairman likely to face another arrest warrant
15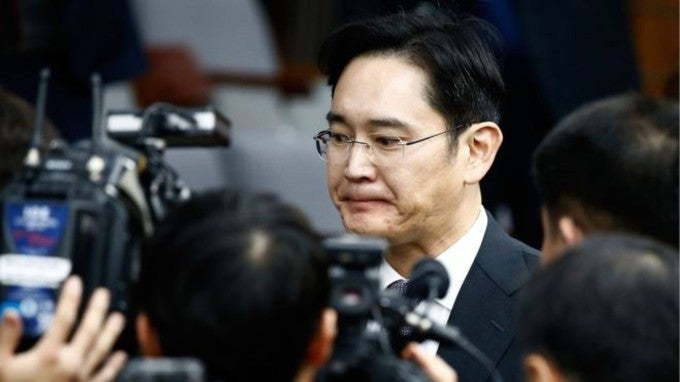 The special prosecution team that is looking into the
corruption and bribery scandal
involving impeached South Korean President Park Geun-hye and Samsung's heir apparent Jay Y. Lee is likely to request another arrest warrant against the latter. Lee avoided going into custody on January 19, as a local court determined that there is no need to detain him as he is already barred from leaving the country while the investigation lasts.
This marks the latest development in a corruption scandal of epic proportions, which resulted in the impeachment of South Korean President Park Geun-hye. For those unfamiliar with the story, Jay Y. Lee, who serves as the de facto head of Samsung Group, allegedly wired about $36 million from Samsung subsidiaries to two foundations set up by President Park's close friend, Choi Soon-sil. Reportedly, the money were paid out to win favor from the country's state pension fund, which supported a merger between two Samsung affiliates in 2015.
The court dismissed the previous request for the arrest of Lee, stating that "it is hard to find a reason, necessity and appropriateness for the arrest at the current stage" and adding that it is still debatable whether the wired money was for any kind of reciprocal favors. An official statement from Samsung also explained that the money transfer wasn't related to the 2015 merger and arguing that the company was coerced into offering the sum.
However, the prosecution team have been active in gathering more evidence to support their case. Hwang Sung-soo, a senior Samsung Electronics executive and vice chairman of the Korea Equestrian Federation, was called in for questioning over Samsung's role in supporting Choi Soon-sil's daughter, Chung Yoo-ra.
The team reportedly gathered circumstantial evidence that Samsung tried to bribe Chung by promising her an expensive new horse, which contrasts the tech giant's claim that it was strong-armed into doing "donations" of any kind. Prosecutors have also summoned President Park Geun-hye for a face-to-face investigation early next month and are hoping that the new information at their disposal will be enough to convince the court to incarcerate Lee.
via
SamMobile