Samsung's unannounced Galaxy Folder 2 flip phone gets full unboxing treatment
14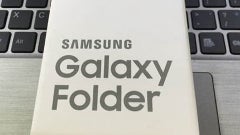 With
so many clear sightings
of the
Galaxy Folder 2
, you may be forgiven for assuming that
Samsung's upcoming clamshell
had already released. As yet, the sequel to the original
Galaxy Folder
has not even been announced. Still, whether you're waiting on its release or would just like another look at this rarest of beasts, a full leak of an unboxing is now upon us.
A true aesthetic throwback, the flip phone design is quite an eyebrow raiser in today's world. Though it has many very obvious disadvantages versus the form factors of the iPhones, HTCs and Samsung very own Galaxies, we'd hazard that there are benefits to be had. Indeed, while modern-era smartphones have solved many problems of the dumbphone era, they cannot replicate the feeling of slamming a phone shut to abruptly end a call. It was just
too
gratifying.
Where older devices could muster calls, SMS — and if you were lucky, a few games — Android 6.0 Marshmallow furnishes the Galaxy Folder 2 with
one or two
additional extras. On the hardware front, the device gets a 3.8-inch, 480 x 800 display, Qualcomm's 1.4 GHz Snapdragon 425, a couple of gigs of RAM and 16 GB of expandable storage. Elsewhere, there's an 8-megapixel main camera, a 5-megapixel effort for selfies and a 2000 mAh battery.
The unboxing leaks appear to have originated from the same source
as the one we showed you earlier
, though the leaker seems to have been more liberal with the photos this time around. In the gallery below, you'll get to see the device from all angles as well as inside. There's also peek at the headphones bundled with the Folder 2, and a few side-by-sides with what we believe to be the
LG Wine Smart
.
It remains to be seen when the enigmatic handset will launch, though it's likely that the
Galaxy Note 7
's is affecting Samsung's other roll-outs. With the company
amid a worldwide recall
, it could still be a while before the Folder 2 gets its official stamp of approval.
We'll let you know as and when the Galaxy Folder 2 hits the scene and in the meantime, take a peek at the unboxing below.