More Samsung Galaxy Folder 2 pictures leak out, price revealed too
9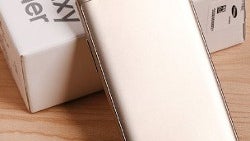 The Galaxy Folder 2 is the name of Samsung's upcoming entry-level Android flip smartphone. Surprisingly, this won't be the only Android phone featuring a clamshell form factor that the South Korean company will launch this year.
Some of you might remember that Samsung has
another Android clamshell
in the pipeline, the so-called "Veyron," which is a high-end device that, unfortunately, is aimed at the Chinese market only.
On the other hand, from what we've managed to put together from the latest leaks, the Galaxy Folder 2 will be available in more regions.
If you haven't seen any of the previous pictures
showing the clamshell from all angles
, you'll be pleased to know that a new set of images have been leaked recently.
Along with the said pictures, more details about the phone's specs have been revealed as well. Aside from the fact that the Galaxy Folder 2 will ship with Android 6.0 Marshmallow right out of the box, we've also learned that the clamshell will include 16GB of internal memory, not just 8GB as
previous rumors
pointed out.
Also, the smartphone will be powered by a 1.4GHz Qualcomm Snapdragon 425 processor, coupled with 2GB of RAM. Sadly, the 3.8-inch display will feature 480 x 800 pixels resolution.
An 8-megapixel rear camera will provide users with the option to take pictures while on the go, whereas the 5-megapixel camera in the front should be fine for decent selfies. The 1,950 mAh battery inside the Galaxy Folder 2 should keep the lights out for quite a long time.
Those craving for a clamshell smartphone will be happy to know that Samsung Galaxy Folder 2 won't cost a fortune. It would have been quite unusual considering its specs. The clamshell should be available for purchase for $285 outright, though we don't have a certain release date yet.