Samsung's new fully flexible OLED display looks like it's ready to go
21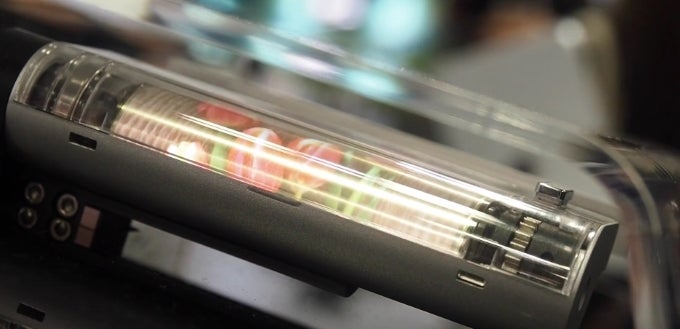 Samsung is pulling a double technological whammy today. In addition to announcing an India-bound tablet with an iris scanner, the company showed off its latest flexible OLED display for smartphones. Mind you, this isn't the kind of screen you get in the Galaxy S7 edge – that's a flexible OLED panel encased in solid curved glass, which makes it more of a non-flexible OLED panel in our book. But it's been known for a while that Sammy is steadily progressing with the development of fully flexible, bendable, twistable, and otherwise super-contorting mobile screens – possibly priming them for inclusion in a 2017 smartphone that's supposed to fold in two, sort of like a wallet.
In addition to patent drawings of said handset, allegedly named 'Galaxy X', we've seen Samsung exhibit prototypes of its flexible screen technology, such as the one in its "YOUM" concept that later turned into the Galaxy Note Edge and other aesthetically curved phones after it. This doesn't happen very often, but when it does, Samsung is showing things brimming with potential.
They see me rollin', they bendin', contortin'...
At SID 2016 in San Francisco, an esteemed display industry event, the company presented a 5.7-inch, 1080p resolution OLED panel that's just 0.01in (0.3mm) thick (although the touch layer isn't counted here) and fully flexible. The display is seen rolling out some sort of contraption that's not unlike an old film cartridge. We expect Samsung will be able to roll out more of these from its OLED manufacturing plants (which benefited from heavy investments recently) in time to make a smartphone that's truly unlike anything else out there.
While the competition isn't sleeping in on flexible displays, efforts from other companies haven't been as convincing as Samsung's seemingly great OLED screen. Recently, we saw a Chinese manufacturer introduce a
bendable graphene display
, complete with a touch layer and abhorrent colors. And earlier in the year,
we got to see the ReFlex
, a prototype flexible smartphone with a 6-inch, 720 x 1280 resolution OLED screen sourced from LG Display. While Samsung might be the first to go all-in on a flexible smartphone meant for the masses, competitors won't take too long to catch up. Let's hope flexible phones will actually rule!
ALSO READ