Samsung's new battery tech can fit 4000+ mAh in the size of the Galaxy S6 juicer
53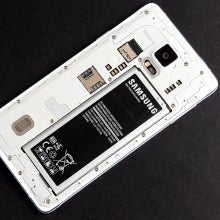 We are on the cusp of battery technology breakthroughs that would allow our spec'd-out smartphones to last for days. These technologies are not years away, mind you, and none other than Samsung announced that its R&D department has achieved a breakthrough into the all-important cathode material composition, which has been the pinnacle of recent efforts for increasing capacity while preserving battery size.
Samsung has used something similar to the
silicon cathode material we've told you about before
, throwing graphene into the mix, and this has allowed 1.5-1.8 times the battery capacity in the same juicer size. This means that the battery that is currently in the
Galaxy S6
, for instance, will be able to hold 4000+ mAh capacity, which in turn would turn it into a two- or three-day battery phone with typical usage.
Moreover, the charge/discharge cycle numbers have also been preserved, which has been the bottleneck for the technology before. We knew that
Samsung is working on "denser" batteries
, and are glad to see things moving along nicely. Hopefully, this one will land in time for the
Galaxy S7
.

Samsung's silicon and graphene battery breakthrough