Samsung's new Galaxy Tab 4 slates priced from €199 in Europe
12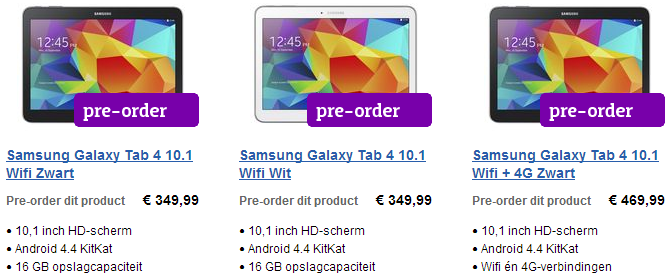 Samsung announced its new Galaxy Tab 4 series a couple of days ago, but it didn't reveal their prices. However, thanks to Dutch retailer Tabletcenter, we now know how much we should expect to pay for the new Galaxy Tabs - at least in Europe.
Tabletcenter is currently accepting pre-orders for all three Galaxy Tab 4 models. Here are the prices:
We're assuming that prices in the US will be similar, meaning $199 for the Tab 4 7.0, $269 for the Tab 4 8.0 Wi-Fi, and so on. Of course, we still have to wait for Samsung to confirm this.
All three new Galaxy Tab 4 slates should go on sale later this quarter. They run Android 4.4 KitKat out of the box, and offer similar features, including: displays with 800 x 1280 pixels (the screen size obviously varies between models), quad-core Snapdragon 400 processors, 1.5GB of RAM, and microSD card support.