Samsung's latest Galaxy S7 edge commercial is all about virtual reality
22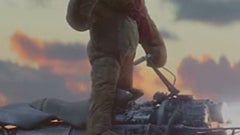 Samsung today released a new
Galaxy S7 edge
commercial that's more about one of its accessories rather than the smartphone itself. Titled "Dreams", the commercial - embedded below - reminds us that humans have an inherent desire to dream (both literally, and figuratively). We sometimes want to escape reality, and, according to Samsung, the Galaxy S7 edge and the Gear VR headset are the perfect solution for that, as they enable us to be immersed into virtual reality - there are various games and videos specifically made for this, all available via Samsung's Gear VR control center app.
"If you could experience anything in a dream just by putting a phone on your face, why wouldn't you get that phone?", Samsung asks at the end of the new commercial, suggesting that the Galaxy S7 has an advantage over other high-end smartphones which don't allow users to experience virtual reality.
As you may remember, for a limited time (during the pre-order period, and a few weeks after launch), the Galaxy S7 and S7 edge came with
free Gear VR headsets
in the US. Now, however, if you want a Gear VR, you have to pay $99.99 for it - so you can't enjoy virtual reality if you're buying
just
a Galaxy S7.
Have you tried the Gear VR with any of Samsung's smartphones? If yes, did you like the experience?