Samsung's in-screen fingerprint scanner said to cause display brightness issues
99+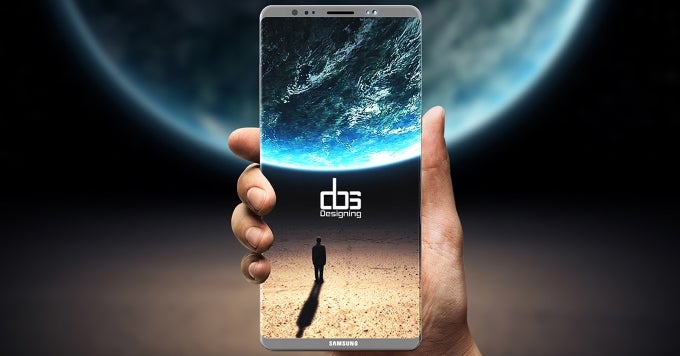 Concept image of the Galaxy Note 8.
An industry insider claims that Samsung's in-screen fingerprint scanner technology results in brightness imbalance issues where the area containing the scanner is noticeably brighter than the rest of the display.
This could be the reason, or one of the reasons why Samsung is reportedly giving up on the in-screen optical fingerprint sensor for the upcoming Galaxy Note 8. The most recent rumors claim that the technology won't be ready for mass production until early next year, possibly in time for the
Galaxy S9
's release.
Due to the technological experimentation involved, and the elaborate safety tests & measures Samsung is undertaking to prevent the Note 7's battery explosion problems from repeating, the Note 8 might be announced later than usual – in September at the IFA conference in Berlin, rather than August, as it has been for a while now. The rumors are conflicting on the situation, though both mid-August or early September sound completely manageable.
Besides, Apple has already gathered major hype with the upcoming iPhone 8, which is going to present major design and functionality changes. Releasing the Galaxy Note 8, which will most likely bear a strong resemblance to the
Galaxy S8
, a few weeks before the new iPhone will do little to dim Apple's spotlight. Samsung is better off taking its time and polishing the phablet to near perfection. The Note 8 has to be the ultimate proof that Samsung has learned from its past mistakes.
ALSO READ
Recommended Stories