Samsung's bada merges with Intel's Tizen
10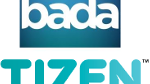 Samsung's Senior VP of Contents Planning Tae-jin Kang revealed in a discussion on Friday that his company's
bada
OS will merge with Intel's
Tizen
OS. Apps developed for bada will be able to work on Tizen, and will be backward compatible with previously published apps. Eventually, the two will share the same developer interfaces and the same roots. By sharing the same SDKs and APIs, the thought is that if a developer can write for bada, he will be able to write for Tizen. The Samsung executive didn't say when the combination would be completed, but he did note than
one to two phones
using the platform will be available this year and didn't rule out the possibility of a tablet being released.
Intel would appear to get the better of the deal considering that bada has enough of a following that with 2% of the global market, it
outsells Windows Phone
powered handsets even with Microsoft's spending on promotion and marketing of the latter. The hope is that the combined OS will be the second most popular open source OS in existence after Android. And in some ways, the combined platform might be more open since Google often withholds source code and doesn't allow third party work on Android's core. Intel was left in the lurch after
Nokia decided to go with Windows Phone
instead of Intel's MeeGo despite positive reviews for the Nokia N9.
Tizen was originally intended to replace MeeGo and uses a
select amount of technology
from its predecessor. Samsung did say that it will probably use bada for lower-end models that use a single-core processor while Tizen is better at running higher-end devices not powered by Windows Phone or Android. The Korean based giant said that it doesn't expect Tizen to become its main operating system soon.
source:
Forbes