Samsung's accomplished new design chief comes from Jony Ive's old studio
16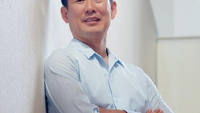 Samsung has selected a new design chief by the name of Lee Don-tae. Design is critical for Samsung as it looks to reverse its fortunes in 2015 after a tough 2014. He will have his office at Sammy's Design Management Center. The 47-year old will be asked to work on the company's overall design, and not just one specific product noted a Samsung official. In other words, while the new Design Chief might get a shot at Samsung's smartphones, his work will permeate through the entire company.
Mr. Lee was the co-president of the global design consulting firm Tangerine, which was founded by none other than Jony Ive. The latter, of course, is the Senior VP of Design at Apple and is credited with leading the design teams for the Apple iPhone and Apple iPad. He is also known for designing iOS 7.
Samsung's new head of design holds a Masters Degree from the Royal College of Art in London. For now, he is known for his redesign of British Airways' business-class cabin. Lee's "z-shaped design" allowed the airline to add 20% more seats and increase annual profits by $738 million. Obviously, he can handle the immense pressure he will be under at Samsung, and he has come through before. It should be very interesting to see if he comes up with any new designs for Samsung's smartphones.
source:
KoreaHerald
,
KoreaJoongangDaily
via
Engadget
Recommended Stories