Samsung's S Cloud is real, featured on the Galaxy Note II
17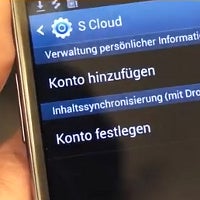 We've heard about Samsung planning its own cloud service under the S Cloud name, and now, months after the speculation started, the service has quietly appeared on the Samsung Galaxy Note II at IFA. With no official announcement or any other form of unveiling, S Cloud right now is more of a mystery than a real service. Germans from BestBoyZ found it buried in the settings on the second-gen Note.
Right now, it controls synchronization of photos and videos to Dropbox, and there are little details beside that. Samsung announced that it's offering 50GB of free Dropbox storage for two years to Galaxy Note II buyers.
Now, we don't know what this means for Samsung's own S Cloud, the only thing that seems certain is that the service is delayed. S Cloud might be an essential tool for the newly unveiled Galaxy Camera, that runs on Android and differentiates with its ability to automatically upload captured images to the web.
source:
BestBoyZ
via
TheVerge