Samsung's #NotePunIntended contest lets you win a Galaxy Note 4 (US only)
40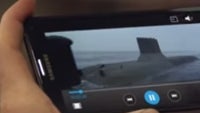 Earlier this week, Samsung released a Galaxy Note 4
promo video that's full of puns
: basically, Samsung created a very short movie where protagonists try to include the word "Note" in almost every other word or phrase (
cocoNote
,
BeethNoteven
,
mochachiNote
,
I'm pregNote
, etc). Now, Samsung is asking for your own Note puns, while giving away some
Galaxy Note 4
handsets via a Twitter contest (US only).
To enter the contest, you must reply to Samsung's tweet that's found at the end of this article, and add the #NotePunIntended hashtag. The contest has three entry periods: the first one ended yesterday, the second one is ongoing and will end on October 1, 11:59 a.m. ET (Eastern Time), and the third one will start on October 2, 12:00 p.m. ET, ending on October 3, 11:59 a.m. ET. Samsung is offering five Galaxy Note 4 units for each entry period, so there are still 10 of them to be won. Mind you, the handsets aren't unlocked, and Samsung says you'll need to activate them on any of the following carriers: Verizon, AT&T, Sprint, T-Mobile, or US Cellular. As you may know, all five carriers will start selling the Galaxy Note 4 next month.
Check out the second source link below for the contest's rules (and make sure you read them). Also, in case you missed the video that we were talking about earlier, here it is: