Is Samsung's new quad-camera phone versatile or overkill?
32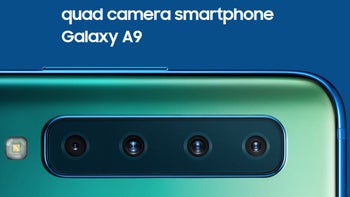 Samsung went all-in with the camera kit on its new
Galaxy A9
that was just announced as the world's first with four cameras. Wait, what? Yep, about the only thing missing is a monochrome sensor, but even without it this thing can cover most every photographic dilemma you might encounter.

The top shelf of the vertical quad-camera placement is reserved for the 8MP Ultra Wide-angle camera with f/2.4 aperture and a 120 degrees field of view. Right underneath comes the 2x zoom telephoto camera with 10MP resolution. A 24MP main sensor will take care of the low-light shots with the widest, f/1.7 aperture, while below the fold is the 5MP sensor for extra depth measurement in re-focused and portrait shots.
What's next, a penta-camera setup with a black and white module added for extra measure just so that someone could yell "first!" Well, not really, as having both telephoto zoom and wide-angle lenses can turn very useful in many scenarios, while the depth sensor is sure to make post-focusing easier. On top of that photographic versatility, the A9 is a very capable midrange warrior, too, with huge OLED display, large battery, and, thankfully, a metal body that won't be easy to shatter when dropped.
This is why we wanted to take your opinion on the quantity vs quality camera trend even though the setup on the Galaxy A9 has yet to prove itself in battle. We can't wait to pit it against the other camera versatility champ, LG's
V40
, too.