If foldables don't work, Samsung may just wrap the display around the phone's top
3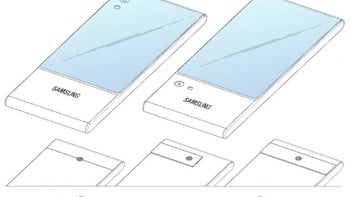 While Samsung may be
prepping
a foldable tablet that unfurls to the size of the large
iPad Pro
, and a
Galaxy Fold
successor with 8" double-bending display, it keeps patenting the future of foldable phones.
The latest in its patent installments is a filing for a phone with a wraparound display, unearthed by the Dutch from LetsGoDigital. Samsung calls the invention a phone with "multi-plane" display, as it occupies the front, extends over the top
edge
, and falls down to about three quarters of the rear.
The location of the front and rear cameras, as well as various sensor paraphernalia, is literally all over the place, as Samsung's patents cover all possible variations to put them, including display holes like on the
Galaxy S10
family.
The top edge is, needless to say, the most interesting part of this design, as Samsung envisions it showing various ticker-style information and notifications. Besides the intriguing wraparound display design, Samsung has other tricks up its sleeve for "multi-plane" phones - air gestures. Just like on the new LG G8, you might be able to send various commands to the rear display by hovering your hand over the front and changing what is displayed there.
The possibilities to play around with such a wraparound display are endless, and, although we already have dual-screen phones like the
Vivo NEX
on the market, Samsung is taking the concept to the next level, stopping just short of the troubled foldable design.