The Galaxy Fold line set to expand with 8" and 13" dual-bend display tablets
10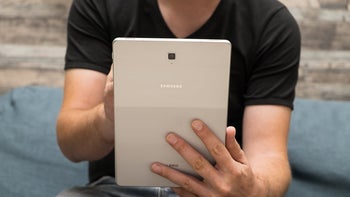 The
Galaxy Fold
is a few days from its public release in the US if all goes according to plan. It's not going, though, as Samsung has allegedly been
postponing the launch in places like China
, allegedly in order to train the reps better on presenting the device and teaching potential buyers how to use the phone.
Like, for instance, not to scrape off the cover polyimide which is an integral part of the flexible display underneath, slapped on it against scratches, even though it does not completely wrap around and fuse with the panel at the edges, making it look like a screen protector of sorts.
In any case, there are the usual rumors through the grapevine that the delay in the Chinese launch may also be due to Samsung determining there are bigger problems with the flexible screen and its plastic substrate that may appear even if users don't take off the cover film, so it won't ship the Fold to stores before it investigates the potential issues thoroughly.
The polymer substrate that Samsung employs makes the Fold screen 50% thinner than that on other phones, though, and allows for some other intriguing design avenues that Samsung is exploring,
reports Korean media
today.
Galaxy Fold family growing up to 13 inches
These are to be developed in a year, and include both G-type and S-type foldables with screens much larger than what we have now on the unfurled Galaxy Fold. The G-type is reportedly going to fold twice like, ahem, the letter G, and has an 8 inch diagonal when opened, while the other one folds like a squished letter S and unfurls into a whopping 13" display. This is about the diagonal of the larger
Apple iPad Pro
, and should bring new meaning to the phrase portable tablet. According to an official of the parts industry:
The parts used in the folders are mostly the same as those of the existing smartphone, but there are key differences in the display.
When will Samsung release the foldable tablets? The patents are already there...
The biggest upgrade to the new Folds, compared to the original one that the company is about to release soon, is that the display bends not once but twice, and, while the G-style phone bends inwards, the S-style should be both an "innie" and an "outie."
Samsung has numerous phone patents that depict both new styles and is now putting them in motion, it seems. Here's how these might function, according to Samsung's own patents filed with the
United States Patent and Trademark Office
as well as other similar bodies around the globe.