Samsung unveils ePoP phone memory stack: 3GB RAM and 32GB storage now take 40% less space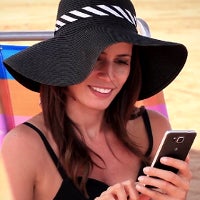 Samsung just announced a breakthrough in phone memory packaging, which fuses 3 GB of RAM and 32 GB of storage in a single small package, allowing the kit to occupy 40% less space in our smartphones than a similar setup does now. This will leave more space for a battery pack in slim handsets, or whatever the engineering teams decide to do with the free air left inside.
The brainiacs from Samsung have already started mass producing the industry's first ePoP (embedded package on package) chip, which is a marked improvement over the current two-package eMCP memory solutions. The 3GB LPDDR3 mobile DRAM utilized runs at an I/O data transfer rate of 1,866 Mb/s, and comes with a 64-bit bandwidth.
The ePoP packaging occupies exactly the 225 square millimeters space that a conventional mobile CPU takes, and is just 1.4mm thin, so it can be stacked on top of it, unlike current two-package editions that take 374.5 square millimeters. "
By offering our new high-density ePoP memory for flagship smartphones, Samsung expects to provide its customers with significant design benefits, while enabling faster and longer operation of multi-tasking features
," Jeeho Baek, Senior Vice President of Memory Marketing at Samsung Electronics. "
We plan to expand our line-up of ePoP memory with packages involving enhancements in performance and density over the next few years, to further add to the growth of premium mobile market
." There you have it.