Samsung to make its own graphics processor, ready in time for the Note 5
18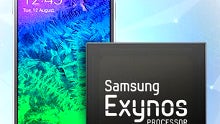 Note 5
might end up with a graphics processor designed entirely by Samsung, if the rumors out of Korea hold water. The company is currently making its own Exynos line of chipsets that are based on ARM architecture like most mobile processors out there, but the graphics number-crunching is done by ARM's own Mali family without much tampering.
Qualcomm, for instance, which makes the ultrapopular Snapdragon mobile family of chipsets, uses a tailor-made Adreno GPU units in them, which are with a design of its own, thus having much more control over their thermal efficiency and performance ratio.
Samsung, however, intends to be ready with its own mobile GPU piece by mid-2015, and put it in the next edition of the Exynos line for a system-on-a-chip done completely in-house. This means that we might see an all-new Exynos in the eventual Note 5, and we can't wait for more leaks and, hopefully, benchmarks, of Samsung's rumored homebrew GPU to pop up.