Samsung teases Super Bowl ad featuring Seth Rogen, Paul Rudd, and Bob Odenkirk
15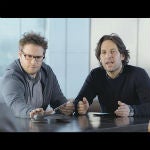 This Sunday is going to be an exciting day. Not only is there a premiere sporting event, but of course along with the Super Bowl come the Super Bowl commercials, which can be plenty entertaining, even if you aren't much of a football fan. As you might expect, Samsung has a Super Bowl ad all ready to go, but it isn't leaking that just yet. However, the company is teasing the commercial with a spot featuring comedy gods Seth Rogen, Paul Rudd, and Bob Odenkirk.
The ad is pretty blatantly tongue-in-cheek about the whole lawsuit saga that Samsung has been part of over the past year. In the spot, Odenkirk is brainstorming ideas with Rogen and Rudd about the upcoming Super Bowl ad for Samsung's "Next Big Thing", but because of fears over being used, can't use the trademarked name of the game or teams involved.
Well played, Samsung. Well played.