Samsung takes a page off the Apple Stores book, opens a similar one Down Under
38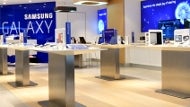 The jury deliberations in the Apple-Samsung patent trial are underway, but Apple might as well open a new front, if it held patents relating to the look and feel of its retail outlets, the Apple Stores.
Samsung is opening a new store Down Under, that borrows the clean, minimalistic look of the open floor and display stands that Apple's retail locations are so recognizable with. Not that there aren't other stores out there with similar arrangement - boutique designer shops come to mind - but Samsung is reportedly even planning to title its crew of customer service reps "Samsung Smart Tutors", as they will all be "geniuses" in their Samsung gear knowledge, apparently.
Controversial? You bet, it's as if Samsung is sticking it in the face of a lawsuit evidence waiting to happen, now that the trial as at its end stages, but its Australian store is also loaded with TVs and other gear that Apple doesn't make, so we'll see if there will be any reaction to the Samsung store developments Down Under.
Recommended Stories