Samsung suggests that this unique Galaxy S6 edge feature makes the handset superior to others
65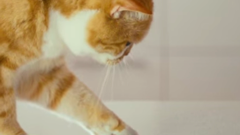 Samsung today released a new promo video that showcases the
Galaxy S6 edge
, and, in particular, one of the smartphone's unique features: Edge Lighting. When this feature is enabled, the curved screen of the new Galaxy lights up when the device is face down and you get a call or a message from one of your favorite contacts. You can pick up to 5 favorite contacts, and assign different colors for each of them (the available colors are green, blue, purple, orange, and yellow).
But the S6 edge only shows up at the end of Samsung's new video. Before that, we can see various non-Samsung smartphones, including a bunch of iPhones, a Lumia, a Moto X, a Moto Droid Turbo, an LG G4, and even a BlackBerry Passport. Samsung suggests that all these handsets can be a bit annoying when notifications are received and they vibrate, while the S6 edge is bringing "a whole new way to see alerts", thus being superior (well, at least when it comes to seeing alerts).
What do you think? Is Edge Lighting a feature to brag about, or is it not that important?