Samsung's patented smart ring will let you control devices by just waving your hand
10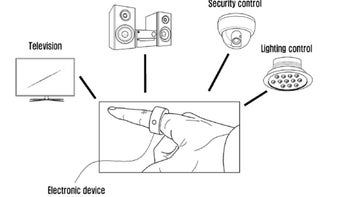 Wearable technology is still a fledgeling niche, with manufacturers shuffling about, trying to find meaningful use scenarios for tech embedded in common accessories. Currently, the best product to come out of that are the smartwatches, and it's arguable that they are still pretty limited in what they can do. They are basically glorified fitness trackers that happen to vibrate when you get a notification.
Not that it's not cool. It's just not cool enough just yet.
A Samsung patent, published just last week, reveals that the company is fiddling with the idea of smart rings. These would be used to help you control all of your smart home appliances with just a flick of a finger.
How? Well, the ring would sport at least one inertial sensor in order to read sudden movements and gestures. Additionally, a touch sensor would be applied to the ring's surface to enhance interactability.
The idea is that the user would eventually be able to control a ton of stuff from Samsung's Internet of Things ecosystem. Things like scrolling through content on your TV, a better VR experience, launching apps on a mobile device, controlling the playback of your home audio system, the home security, and lighting, et cetera.
Of course, this is just a patent, which means that Samsung has figured out a way it may possibly want to incorporate such tech in future products. It is in no way a guarantee that this would see the light of day just yet. And, frankly, it might take a while before such technology can fit in a ring small enough to not look ridiculous.
source:
Patentscope
via
LetsGoDigital