Samsung showcases its "Solid History" of metal phones
43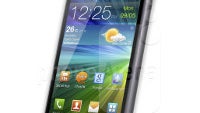 When the
Galaxy Alpha
came out, we made sure to remind you that while Samsung has been very conservative with the use of metal in its latest smartphones, it's definitely been there not that long ago, with the
Samsung Wave II
. But the company is intent on pointing out that its "solid" history of using metal with its phones goes way back. And that's fair.
According to the company's official blog, one of the first of its devices to ever sport metal in its build is the SCH-V740, also known as the Samsung Blade -- a flip phone from all the way back in 2005. The Blade was followed by the SCH-V890 a tad later, and the SCH-V940 even further down the road. What followed next are devices that are probably a bit better known among the wider public -- the Samsung Giorgio Armani phone, and the Samsung Wave 723, Wave 2, and Wave 3.
Of course, just the Wave series from those on the list so far sported a full metal body -- the rest simply had metal used in parts of their construction, much alike to the Galaxy Alpha. Inheriting the Wave series metal body design philosophy was the scarcely-known Wise series, of which there are at least two distinct models -- the Wise 1 (2011) and Wise 2 (2012).
See them all in the gallery below.