Samsung sends out update to prevent users from remapping Bixby button
97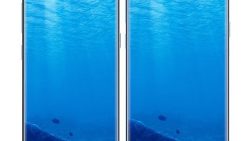 Earlier this month, we told you about an app in the Google Play Store called
All in One Gestures
that allows you to take the dedicated Bixby button and
reconfigure it to work with another application
. But Samsung isn't exactly pleased with this. After all, they spent a ton of money developing Bixby, and gosh darn it, the AI assistant is going to have a dedicated button that activates it whether you like it or not.
So what the manufacturer did was send out an OTA update to versions of the
Samsung Galaxy S8
and
Samsung Galaxy S8+
headed to Canadian carrier Telus. The update removes the ability of Accessibility Service to intercept KeyEvents, which is how the All in One Gestures app allows you to remap the button. Telus users will have to root the phone in order to accomplish this task. While other variants have not yet received the update to block the remapping, in all likelihood, they will.
A Samsung employee who runs the reviews program for the company subsequently sent out a tweet, confirming that it has blocked the remapping of the button. Good for Samsung. How dare people go out and spend their hard earned money on an expensive handset and then try to reconfigure it the way they want it to be (that's sarcasm, folks). Truthfully, if Samsung wanted to have users press the Bixby button and activate Bixby, well perhaps they shouldn't have launched the feature half baked.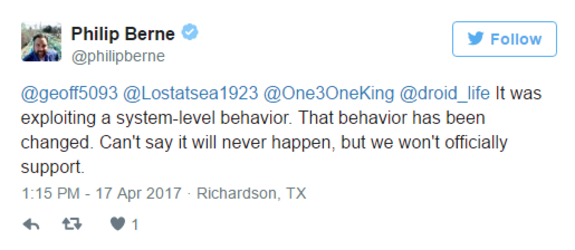 Samsung employee confirms that the manufacturer sent out an update to block the remapping of the Bixby button
source:
XDA
,
@philipberne
via
AndroidandMe
Recommended Stories