Samsung revisits the Galaxy S5 announcement, reveals which words were used the most during the keynote
27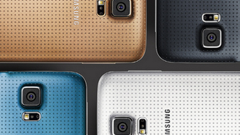 Samsung decided to take another look at how it presented the
Galaxy S5
on the day of its official debut (February 24). The keynote announcing the new handset, as well as Samsung's new Gear wearables, lasted about 11 minutes, while the entire Unpacked 2014 event was almost one hour long.
Samsung Tomorrow (one of Samsung's official blogs) found that "consumer" was the word used the most during the keynote - no less than 12 times. Other words that were frequently used include "new" (8 times), "people" (4 times), "useful" (4 times) and "innovation" (4 times). So Samsung concluded that the Galaxy S5 was presented - and made - from the beginning with consumers in mind - though this can probably be said about most, if not all smartphones from well-known companies.
If you're interested, and in case you didn't already see it, you can watch the full Samsung Unpacked 2014 event in the video below. After the video, we included a word cloud made by Samsung from all the words that were used during the Galaxy S5 announcement. The second image shows a funny selection of words that we noticed.
Since the Galaxy S5 first hit shelves on April 11, Samsung reportedly shipped
more than 11 million units
around the world. Later this year, possibly
as soon as June
, Samsung could announce a more advanced (and more expensive) version of the S5, allegedly called
Galaxy S5 Prime
.
source:
Samsung Tomorrow