Samsung releases Galaxy Tab 10.1 kernel source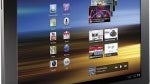 Good news for the developer community! Samsung has released the kernel source for their new Galaxy Tab 10.1, which may not mean much for the average user, at least not yet. Soon though, it's likely we'll be hearing about some fun tweaks for the fancy new Android Honeycomb tablet.
Samsung released the kernel source as part of their commitment to the Open Handset Alliance, and making Android a better place for developers. With this source code, developers will be able to tweak the Galaxy Tab 10.1 with additional features and ultimately will likely lead to a custom ROM for the tab.
The release of the kernel source could also push the Galaxy Tab forward as the tablet of choice for developers looking to create apps for Honeycomb. Samsung already jumped ahead of the Motorola Xoom for developers by being the giveaway at Google I/O this year, and having the full kernel source will allow devs to dig deeper into the system and APIs to create apps optimized for both Honeycomb and specifically the Galaxy Tab 10.1.
source:
Android Central
Recommended Stories