Samsung preps a hybrid Windows 8 tablet too, with S Pen stylus, SIM card and magnetic force
33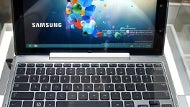 Apple's CEO Tim Cook opinion on the hybrid notebook/tablet devices that Windows 8 makes possible is that it's like pairing "a refrigerator with a toaster", with the notion that none of their functions will be done as good as if they were standalone devices.
Windows 8 device manufacturers begged to disagree, starting at the first day of the Computex expo in Taiwan yesterday, when
Acer
,
Asus
, MSI and Lenovo all outed interesting devices with Win 8 on board. As usual Asus was the one with the boldest hybrid designs, including a Transformer-like tablet, two-screen notebook, and a
detachable all-in-one
.
Now add to the hybrid device game Samsung, Apple's biggest competitor in the mobile realm, and things start to get really interesting. Besides a laptop, whose screen part pivots all the way back to become a tablet, the Koreans had a hybrid Windows 8 tablet/notebook device of their own to show, called Samsung Series 5 Hybrid.
While neither the price nor launch date were revealed, the device resembles the
Asus Transformer
line concept of a 10" tablet plus a detachable keyboard part. Instead of a latching mechanism, however, which adds bulk and weight, the tablet attaches magnetically to the keyboard half.
No concrete specs were revealed, but the expo unit was running a low-voltage Intel CPU, meaning that a full-throttle Windows 8 will be on board at launch, able to run the more than a million legacy programs that come with Microsoft's Windows OS. Word was that there will be two screen options - a 1080p Full HD tablet screen, and a cheaper one with a regular resolution. An 8MP camera on the back and 2MP frontal shooter will be taking care of the niche realm of tablet photography.
Samsung's other added value will seemingly be the
S Pen and S Memo stylus apps
, coming straight from the Note, but tailored to the Win 8 tablet realities. The hybrid slate clocks in a bit heavier than your usual 10" tablet, at 1.65 pounds (747g), but is fairly thin at 9mm (0.35"), yet houses a standard SIM card and microSD slots, as well as a speedy USB port.