Acer unveils 2 new Windows 8 tablets
30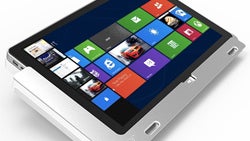 Computex 2012 is underway and Acer is making its splash by announcing two Windows 8 tablets – the ICONIA W510 and the ICONIA w700.
The W510 features a 10.1-inch IPS display and a detachable keyboard. It features a tri-mode that allows users to touch, type, and view. When snapping on the keyboard the W510 transforms from tablet mode to productivity mode and extends the battery life up to 18 hours. The device can be rotated 295 degrees to be used in presentation mode. Acer says this mode is best suited for watching videos, surfing the web, or viewing a PowerPoint presentation.
The W700, on the other hand, features an 11.7-inch 1920 x 1080 display. It also ships with a multipurpose cradle that can be adjusted for several viewing options. In landscape mode it can be tilted from 20 to 70 degrees. The W700 also features three USB 3.0 ports, 10 finger multitouch touchscreen, Dolby Home Theater for enhanced audio, and over 8 hours of battery life.
No pricing has been released as of yet, but we'll be sure to keep you updated.
UPDATE:
Acer has now announced that the W510 will retail for $799 and the W700 will be available for $999 with an optional keyboard.