Samsung prepping a custom processor core of its own, might release it with the Galaxy S7
56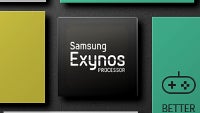 Apple has its proprietary Cyclone processor cores, Qualcomm has Krait and the upcoming Kryo, but Samsung? Well, Samsung doesn't have anything right now, and is using the stock ARM Cortex CPU cores without significant modifications. For a company as versed in silicon production as Samsung, and one that is trying to take on Qualcomm, this is a crying shame, but the Galaxy S6 maker will be remedying this situation pretty soon, reports Korean media today.
It seems that Samsung is almost ready to finally release its own processing core next year, perhaps in time for the
Galaxy S7
. Samsung's System LSI Division has been working on a proprietary 64-bit core for four years, claims the publication, and will no longer be using the default ARM Cortex designs. The current
Exynos 7420
in the
Galaxy S6
is plenty powerful, but still, in its single-core performance,
it is no match for the proprietary Apple A8 chipset
, despite the latter being clocked at much slower speeds.
The move is said to further solidify Samsung's position as one of the largest and most distinguished chipset manufacturers, and we can't wait to see what this eventual proprietary core has on
Snapdragon 820
's Kryo that will land before it.