Samsung phones' China sales drop like a rock: from top dog to 3% market share
55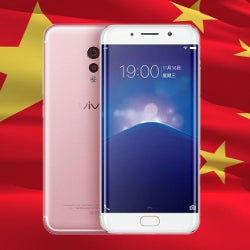 Samsung, like almost all non-Chinese phone makers, keeps losing market share in the land of Huawei, Oppo and Vivo, says a report by Counterpoint Technology Market Research. Samsung's smartphone shipments, which were not that great in China to begin with, fell 60 percent year-on-year, and the company moved just 3.5 million units there in Q1, bringing its market share to 3.3% from 8.6% a year or so ago.

It turns out that local brands that have big retail presence with thousands of mom-and-pop shops in remote places selling and servicing them, have the upper hand against foreign brands, or locals like Xiaomi that rely on online sales and marketing. Huawei has been the top dog in China in Q1 with with 19.7% market share, followed by Oppo with a 17.5%, and Vivo with 17.1%.
Xiaomi, for instance, focuses on glitzy announcements, flash online sales, and targets big urban markets, whereas Oppo and Vivo focused on the rural hinterland, where a billion Chinese still live, and they aren't accustomed to ordering online. Nowadays, Oppo's phones are offered in 240,000 local electronics stores throughout China, and Vivo's handsets in half of that number. Beat that, a few hundred Xiaomi stores, or tens of Apple stores! Moreover, Oppo and Vivo offer incentives for the shop owners to sell their handsets, which range from $6-$30, plus locals have somewhere to physically turn up when there is a problem with their handset.
"
Samsung's smartphones are more expensive, available only at offline agents and lack localized app services. The company needs to figure out more how to satisfy Chinese consumers' needs
," tipped Jeon Byeong-seo, head of China Economy and Finance Research. It's not only Samsung that has to figure those out, though, as Apple and the rest of the gang are also struggling in China for the same reason. As recently as 2014, Samsung was the top seller with 20% market share in China, but it looks like the big promise of the world's largest smartphone market will remain unfulfilled for most non-local brands, at least for the time being.