Samsung patents several new devices, including a Galaxy Round-like phone and a Moto 360-like smartwatch
38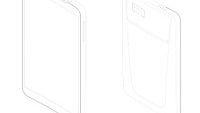 A number of design patents, describing new Samsung devices, have been awarded to the company yesterday, August 19. While these on their own are usually not enough to indicate a given device is on path to commercial release, they do provide us with a glimpse into Samsung's plans.
To start off, the world's largest smartphone vendor appears to be working on a sequel to its Galaxy Round smartphone, for the device illustrated has the same concave display. What's more, while we'll be the first to admit that judging a device's screen based on renders is anything but an exact science, it does look like the device in question will be pretty large.
Another interesting design patent Samsung was awarded illustrates a device very much alike to Motorola's Moto 360 smartwatch and appears to sport a camera on its clasp. The wearable in question has a circular display, so Samsung is obviously thinking of covering all its bases as far as the new form factor is concerned. Whether this is
the rumored Galaxy Solo
remains unknown.
The third design patent Samsung received is real interesting. The device in question features a circular Home button on its bottom front bezel, which reminds a whole lot of the Apple iPhone's.
The fourth new Samsung design patent shows us a device that, while not as interesting as the trio above, is curious in that it appears to be a part of something bigger. Indeed, one of the images illustrates how you can dock the phone into what appears to be tablet
Next on the list is a device that isn't striking in any particular way, with the exception of perhaps one. The below device looks quite ordinary, though it does have a stripe mid-section on its rear and what appear to be at least two speakers on the sides.
The last design patent Samsung was awarded illustrates a phone that appears to be of the budget type, though we obviously can't be sure. The device itself looks fairly standard, though its profile does gain weight towards the bottom. Check it out.
Do keep in mind that design patents are sometimes awarded post-factum, meaning that the illustrated device could be already commercially available. Anything caught your attention?