Samsung patents an interesting phablet-notebook dual OS system
20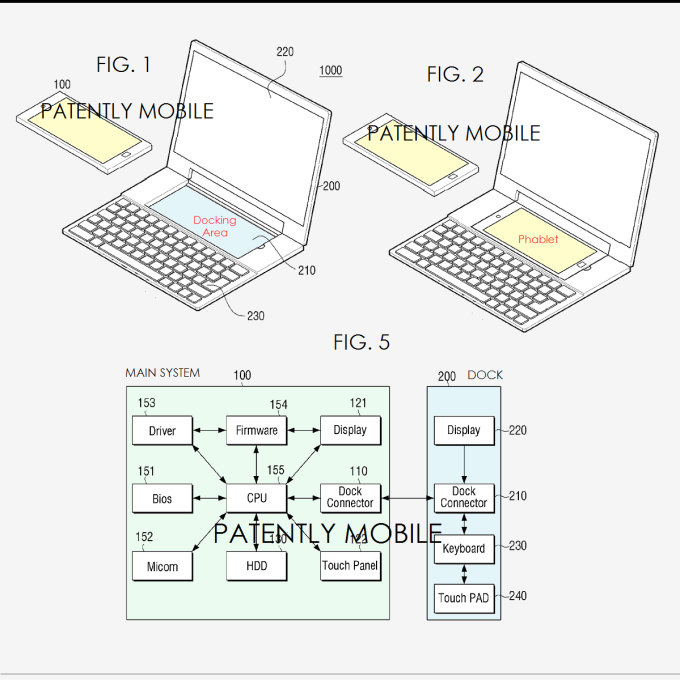 A new discovery in the USPTO database shows that Samsung was recently awarded a patent for a phablet dock that doubles as a Windows-powered notebook.
The system invented by Samsung consists out of two components. First, there's a phablet, which could run Android, as most of Samsung's handsets. The second component is a phablet dock that is equipped with a display and a keyboard and looks very much like a notebook.
At a first glance, we're looking at a phablet dock that can be used as an Android notebook. However, since Android is not very popular among notebook users, Samsung's documents say that the phablet could switch to running a version of the Windows OS (Windows 10, perhaps) when connected in notebook mode.
The documents mention that the phablet runs Android when used as a handset, just like the
Samsung Galaxy Note 4
. When connected to the keyboard dock, the phablet switches to Windows in order to provide a more familiar (and useful) notebook experience.
Interestingly, the documents mention that other operating systems can be used, which could be a hint at Tizen, the operating system that Samsung has adopted for most of its smartwatches, as well as for the budget
Samsung Z1
smartphone.
Note that the keyboard dock described by Samsung in its patent application doesn't come with a processor, it doesn't have a hard drive, and it also lacks RAM memory. All the hard work is done by the phablet, which will come with the files (probably on a separate partition) required to run Windows. Furthermore, the phablet will be able to share its mobile internet connection with the dock, a very useful feature for when Wi-Fi isn't available.
The documents also read that the display of the phablet can be used as a touchpad for the notebook. While the patent application says nothing about a potential battery finding a home inside the dock, the documents do say that the dock will be able to charge the phablet.
This is quite an interesting hybrid device concept, although we currently can't tell if Samsung has any intention of actually building such a product. As with all patents, there's just a slim chance that the system described here will turn out to be implemented in a real product.