Samsung partners with Vogue and GQ to promote the Galaxy S6 series among fashion-minded customers
14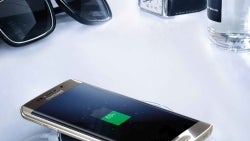 Samsung has just announced that it is partnering with both Vogue and BQ - two of the most influential fashion magazines in the world - to promote the Samsung Galaxy S6 and S6 edge among the ranks of fashion-minded readers.
This is not an entirely new behaviour from Samsung, as the company also partnered with
Vogue last year to promote the Galaxy S5
. Just a few weeks ago, Samsung launched
a range of designer-made cases for the Galaxy S6 and S6 edge
, with some of the partners including Swarovski, Montblanc, Burton, and Rebecca Minkoff.
Samsung is at the wheel of a huge marketing machine, one that seems to have focused most of its attention towards promoting the company's latest flagships, the Galaxy S6 and the Galaxy S6 edge. In the last few months, Samsung created a bunch of promos for the S6 series, with the most recent of them
taking jabs at Apple's iPhone 6
.
It looks like Samsung is keen on promoting its high-end handset as 'essential' fashion statements, which makes a lot of sense given that premium smartphones are not far from branded sunglasses and luxury watches in terms of price, and, more recently, style. As a side note, it's worth mentioning that the
Galaxy S6
and the
Galaxy S6 edge
are two of the most fashionable smartphones currently around, and the two new ad campaigns have yielded subjectively better results than last year's Vogue campaign for the Galaxy S5. Take a look at the photo gallery below and see for yourself!