Samsung official says that attacking Apple fanboys was "a tipping point"
51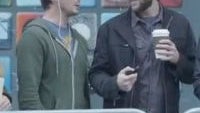 As anyone who has seen the comment threads on any mobile news website can tell you, there's nothing better to drive activity than when fanboys rally around a topic and start yelling at each other, even when there is little to no reason that anyone should get riled up. (In general, all it really takes is mentioning both Apple and Google/Samsung in a title, regardless of the context.) Well, now a Samsung official is admitting that joining the fanboy wars was "a tipping point" for the company.
Samsung Australia's chief marketing officer Arno Lenior said on the matter:
That really did mark quite a tipping point for us globally. We were able to tell a cheeky story — if you think about it, we're a Korean company starting to really mess with the order of things… You've got fanboys after fanboys going, 'You can't put that out there,' and then the Samsung fans saying, 'Yes, you can', and they're starting to have that conversation, which is brilliant. So that piece of content has been amazing for us, both globally and here in Australia.
So, basically, it seems that the "tipping point" that Lenior is referring to is that the ads helped to unify Samsung fanboys and give them ammunition. Given that Samsung's only interest is in making its ads visible and exciting the fan base, it shouldn't be a surprise that the company doesn't care how ugly things get in the process. We, on the other hand, could do with fewer fanboys shouting and more reasonable conversations.