Samsung now selling the Gear 360 camera in U.S. stores
5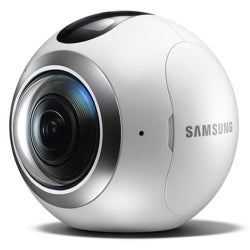 Starting today, Samsung is making its Gear 360 camera available at in-store retailers in the United States. Previously sold online, the accessory can be purchased at the likes of AT&T, Best Buy, US Cellular, and Verizon Wireless. In addition to a walk-in buying experience, this also gives you an opportunity to try the Gear 360 hands-on, which is pretty good to have.
Samsung's 360 camera can capture 360 degree sphere-shaped stills and record videos in up to 3840 x 1920 resolution. It serves as a high-res camcorder and also lets you capture moments from your travels and other experiences in an interactive and immersive format.
However, the Gear 360 is officially compatible only with Samsung's Galaxy S devices (starting with the Galaxy S6), and the Galaxy Note 5, so bear this in mind if you are interested in it. Also, the camera isn't waterproof (although it is splash-resistant), so using it in and around water isn't recommended.
The Gear 360 usually costs $350, but different retailers may have varying prices.
ALSO READ