Samsung nets exclusive supply for the Fold 2's bendable cover glass revolution
5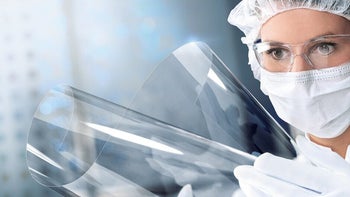 There was speculation back in the summer that Samsung has decided to move on from the
controversial
plastic cover films for its bendy phones like the
Galaxy Fold
to... real hard tempered glass like, you know, on those outmoded rigid phones. Wait, glass can't bend you say?
Well, ultrathin and ultradurable one apparently can, and Samsung has wiggled its way into an exclusive long-term contract with its local manufacturer DoInsys,
reports
Korean media today.
The Fold's durable polyimide (PI) film that is flexible but prone to scratches and not as premium looking and feeling as glass, is on top of that supplied by the Japanese from Sumitomo, and has fallen under export restrictions under the ongoing trade spat with Korea. Comprising the top layer of the Galaxy Fold's flexible display package, it is actually an integral part of the screen. That wasn't quite clear on the preview units Samsung sent out, and some tried to peel it off, ruining the handset's display in the process.
While Samsung fixed the problem by extending the PI cover over the corners of the
upgraded Fold
, so as it doesn't look like a screen protector, it has apparently decided to move away of such films in the future, replacing them with a more orthodox tempered glass. Apparently, the notorious rigidity of a glass structure isn't as valid for glass that is 100 micrometer thin, and that's exactly what DoInsys has developed, potentially going down to 30 micrometer even.
Since such a cover would be of interest not only for foldable phone displays, but anything that can potentially employ flexible screens, including laptops, Samsung has reportedly secured a long-term exclusivity contract with DoInsys for its ultrathin glass sheets, as Chinese makers have already spotted the opportunity, according to one industry watcher:
Chinese panel companies are also interested in foldable displays and are working on UTG supply and demand. In light of market expansion, we need to see how Samsung and Doe will continue to cooperate.
Production is ramping up significantly as we speak, say industry sources, and Samsung is even fronting DoInsys with investment into equipment and facilities to ensure steady yield in time for its rumored
Galaxy Fold 2 release
in the spring. A bendy glass cover would be a sight to behold, and we can't wait to try one out in a trimester.