Samsung might have underestimated Galaxy S III demand: a mistake estimated in 2 million sales units
33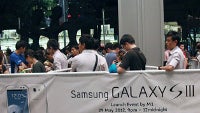 Huge lines and countless rumors - the
Samsung Galaxy S III
is without a doubt the most hyped Android device out there, but this quick rise to the top and the user demand coming with it may have surprised even Samsung. The Korean company might have
missed an opportunity to sell 2 million more Galaxy S IIIs
at launch, if it could handle all the demand for the smartphone. At least that's what analysts claim the temporary shortage might lead to in the second quarter of the year.
The Galaxy S III roll out was also a bit unfortunate - sales in Europe were slowed down by a manufacturing bug pushing down the pebble blue SGS III 2 to 3 weeks down the stretch, and the handset is being delayed on most carriers in the United States.
And even though Samsung brags about sales likely to go over 10 million in the first two months after the launch of the SGS III, that figure could have been higher.
One of the things Samsung nailed with the third generation Galaxy S is definitely the timing - the Android flagship has the advantage of being released months ahead of the next iPhone, which is widely believed to be its big rival. The only other serious competition comes from HTC's One X, and that's about it - LG and Motorola haven't unveiled anything serious recently, and Nokia is also unlikely to attract much sales of Lumias right now as it's been confirmed that exysting Windows Phone devices are not getting bumped up to WP8.
"Samsung might have been caught off guard by the demand, not because they did not believe in their own products, but because they might have over-estimated the competition,"
Gartner analyst Carolina Milanesi said.
Samsung is now both the world's largest phone and smartphone maker, topping Nokia in overall phone sales and Apple in smartphone figures.
Image courtesy of CNET Asia.