Samsung makes the first color quantum dot display, still years till we see it in production
13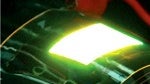 Quantum dots are semiconducting nanocrystals which are illuminated by current or light in different colors, depending on the material they are made of.
They are deemed very suitable for display technologies, because of the combination of the best of both worlds - a fifth of the cheap LCD technology power consumption, and at the same time twice cheaper to manufacture than AMOLED displays, but brighter and longer-lasting at that.
Samsung has managed to sprinkle the technology on both glass and plastic susbtrates, using active matrix to turn the dots on and off. The resulting display is full-color, but there are still a lot of engineering hurdles to be overcome to achieve the technology's potential. That is why researchers clarify we are still about three years away from seeing those in commercial devices like cell phones, but the things are looking more and more promising by the day.
source:
TechnologyReview
via
Engadget