Samsung launches its own Level line of headphones
33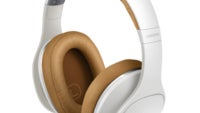 Samsung moves into the high-end headphones scene with the release of their Level headphones. The lineup consists of 3 models of headphones – over-ear, on-ear and in-ear – and a portable Bluetooth speaker.
Level-Over is the top of the crop, costing $349.99, the Bluetooth over-ear headset seems to offer all the bells and whistles Sammy could come up with. The headphones sport a touch panel on the side, which allows the user to quickly skip between songs, control volume, play/pause, and activate S-Voice, all through swiping gestures. The set supports quick NFC pairing to your smartphone. Other mentioned features are the Active Noise Cancellation – an EQ circuit, which cancels all outside noise, while preserving a clean sound, Samsung says; and a Volume Monitor, which takes care to not overexpose your ears to high volumes. Of course, how good these two are at their job remains to be seen (OK, heard).
Level-On is the mid-tier offering and is a wired set, which Samsung touts to be elegant, compact, simplistic, and ergonomic, though it carries none of the features of its higher-tier sibling. That is somewhat understandable, since this headset's priced at $179.99, which is almost a 50% price drop, still we would've preferred to see it sport at least the touch-panel.
Level-In, as you might have already guessed by the overly "intricate" naming scheme, is the in-ear offering at $149.99. Not much to say about these, besides their use of an independent 3-way speaker system (a single bud contains 3 speakers, each dedicated to a specific part of the frequency spectrum – aka – low, mid and high) and a generous amount of in-ear tip sizes, which we believe should go without saying, given the price point.
Finally, we have the Wireless Level Box, priced at $299.99, which offers the same type of NFC connectivity as the Level-Over model. It is a compact speaker that should deliver 8+ hours of battery life and larger-than-life sounds, according to Samsung.
So, if you've been feeling eager to spend $350 on a set of mainstream Hi-Fi headphones, but were put off by Beats' overly flashy designs, you may find Samsung's minimalistic approach a bit more pleasing. What say you, Internet?
source:
Samsung
via
Mashable