Samsung is going to attack the Android market in mid-2009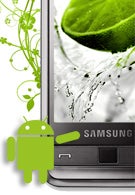 It seems that the androids are going to take over the world next year. And we aren't talking about the Terminator: Salvation movie here. Lately, some known and unknown companies have shared their plans for releasing at least one phone, running on the new operating system.
Samsung is expected to release its first model that uses Android in Q2 2009. According to the rumors, it's going to be a mix of the T*OMNIA (the Korean version of the smartphone that utilizes a 480x800 pixels resolution display) and the Instinct. In other words, it will have a big, touch-sensitive screen and very few hardware buttons. In order to adapt the operating system to the hardware faster, the team has grown with 30 Linux and Java experts and is now a total of 80 people. The Android-based model is expected to be released in two versions, intended respectively for T-Mobile and Sprint in the USA.
source:
EngadgetMobile
and
TalkAndroid