Samsung intros Internet of Trousers fashion range to step up its IoT game
11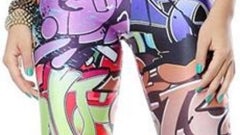 Do you dream of the day when every single object around us will be connected to the internet? Well, Samsung hears you, and it's stepping up its IoT (Internet of Things) game by introducing a brand new line of connected fashion products united under a single, glorious name: Internet of Trousers.
The Internet of Trousers range includes a collection of smart pants with innovative capabilities aimed at improving your everyday life. For example, if, for some reason, you leave your Samsung pants' fly unzipped after exiting the restroom, a Wi-Fly feature will send notifications to your smartphone, telling you to zip up.
A Get Up! alert can be set to remind you that prolonged periods of inactivity are not healthy, nagging you to move around at least once every 60 minutes. We all need some extra motivation at times, so Samsung's smart trousers can even send "mild electrical shocks" to your behind when they detect periods of inactivity longer than 3 hours. Just make sure not to fall asleep in these, okay?
There's also a Keep-Your-Pants-On Mode (which should be useful in quite a few scenarios), plus a Fridge Lock feature: when your waist gets bigger than usual, this locks the door of your fridge, thus trying to stop you from overeating.
Samsung is willing to open its Internet of Trousers ecosystem to third-parties, from famous apparel companies and designers to "your grandmother knitting your next Christmas sweater." We predict a bright future for this, especially if the trousers' smartness won't come at high costs. By the way, it's already April Fools' Day in many
pants
parts of the world!
source:
Samsung
;
thumbnail image