Samsung has lost $12 billion of market value in August alone, on top of $44 billion losses since April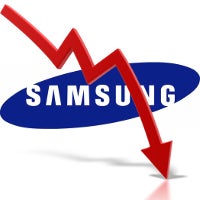 Samsung announced its
Galaxy Note5
and
S6 edge+
phones a little bit earlier this year, aiming to steal the show from Apple's upcoming September 9 event, as well as the just-started IFA 2015 trade show in Berlin. The high-end duo is already on the market and if some of the more
recent reports are to be believed
, the Note5 and the S6
edge+
are effectively outselling the
Galaxy Note 4
and the
Note Edge
in Samsung's homeland, South Korea.
Unfortunately, this might not be a sign of a very bright future for the company. Samsung Electronics' stock prices have been on the decline since April (when the
Galaxy S6
and
S6 edge
got launched), causing a market devaluation of $44 billion. This August alone, they've fallen
8.1
%, which led to a pretty serious market devaluation for the South Korea-based giant. It's said that Samsung has lost some $12 billion of market capitalization last month due to its plummeting stock prices. Ouch.
If you're wondering what's been the bane of Samsung's stocks during the past year or so, look no further than the numerous Chinese manufacturers that are trying to take all fronts of the smartphone market by storm, as well as Apple, which is effectively domineering the topmost tier of the market with its iPhones.
As the likes of Xiaomi, Meizu, Huawei, ZTE, Vivo, and Lenovo are highly unlikely to become less aggressive and competitive, while it's just a week before Apple shows us what it's been working on during the past year the
iPhone 6s
and 6s Plus — it's somewhat hard to imagine that Samsung's financial status quo will suddenly begin to improve. Given that Samsung probably won't unveil a new high-end batch of phones until early next year (probably the
Galaxy S7
), it's safe to expect that the unfortunate stock prices slump will continue to be on the menu and cause some woes for Samsung.