Samsung exec says it landed "huge" orders for flexible OLED screens this year, analysts quick to cry Apple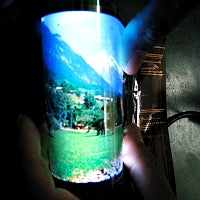 Samsung Electronics VP Kwon Oh-hyun revealed that the company is receiving "huge" orders for its upcoming OLED displays with flexible substrates, which it is marketing under the
YOUM brand
.
Samsung's Korean factories have orders to make no less than 960, 000 flexible OLED panels this year, which is a pretty big number for a fledgling technology. That's why some analysts have been quick to start daydreaming that such a quantity might hint at the Apple behemoth ordering flexible OLEDs for its gadgets.
Mr Kwon, who is om charge of the components department of Samsung, was quoted to say "
We will be mass producing flexible OLED displays from the latter half of this year as the demand from our clients is significant. OLEDs will replace LCDs as the main mobile displays from around 2015 as the screens are thinner and brighter. Samsung has massively invested in OLED-related technologies and will continue to do so.
"
The biggest advantage of device with plastic screen substrates is that they will be more durable and cheaper to produce. As for the futuristic shapes - let's wait and see how Samsung will use the technology in regard to ergonomics.