Samsung and LG have been mooching cheap industrial electricity since 2004, heavy fines may follow
30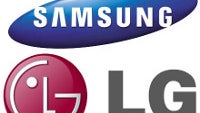 The South Korean media have been lit abuzz by a new report that claims that Samsung and LG, among others, have been 'stealing' electricity from the nation's power grid since all the way back in 2004. The report cites information provided by the Korea Electric Power Corporation, the largest electric utility provider in South Korea.
The new allegations are pointing the finger at two of the biggest players in the mobile space for abusing the country's cheaper industrial network. Industrial power in South Korea is only supposed to be used for the needs of manufacturing, mining and production equipment and facilities usage. The problem stems from the fact that two companies have been using it for their R&D and office needs, which is strictly illegal.
Before you're tempted to downplay the scale of the savings that both Sammy and LG have managed, you should probably think twice – while this is yet to be proven and discussed at detail, it is very likely that the companies raked in an obscene amount in savings. According to the report, if these charges are upheld, the duo will have to pay double the amount they saved by cheating. Ouch! Then again, if this ends up being confirmed, it sure will raise questions as to how the two companies were able to keep this under the lid for nearly a decade.
source:
MyDrivers
via
UnwiredView