Samsung already planning an 8-core ARM chip
46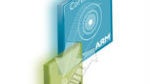 We knew that quad-core chips wouldn't be the end of the line for mobile devices, but we expected that they'd get a few years of maturation before the next step of processor evolution came. But, it looks like Samsung is already planning 8-core ARM chips, and could unveil the plans at the International Solid-State Circuits Conference on February 19th.
The idea appears to be something of an evolution of the "companion core" idea that underlies the Tegra 3. The Tegra 3 is a quad-core chip with a 5th companion core used for low-level processes in order to boost battery life. Samsung's 8-core chip is planned to be a quad-core 1.8GHz ARM Cortex-A15 for the high-level processing, along with a quad 1.2GHz Cortex-A7 for low-level operations.
The Cortex-A7 side at least will be using ARM's
big.LITTLE.computing
philosophy, which means it is built to be extremely small and battery efficient, but powerful processor. The first run of chips will be built using a 28 nanometer manufacturing process which will make it 5 times smaller and more efficient than the current generation Cortex-A8.
No word on release window, but it should be interesting to see the path of this chip.
source:
ISSCC Schedule
via
Engadget