Samsung acquisition could give it a leg up over TSMC in the production of 10nm chips
25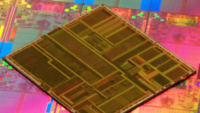 Besides the continuing competition between Samsung and TSMC over which company will be making the majority of Apple's A10 chipsets for the next-generation of Cupertino's mobile products, there is another race going on between the two companies. Which of the two will be the first to roll out large quantities of chipsets using the 10nm process?
A report from Korea last week noted that Samsung's recent purchase of Synopsys' latest electronic design automation product (EDA), will allow it to push out 10nm chipsets at a faster rate than rival TSMC. The EDA is a software tool that will help Samsung design printed circuit boards and integrated circuits. The software allows chip designers to analyze their creations before putting them into production. The IC Compiler 2, the EDA purchased from Synopsys, is said to make process development ten times faster. It also will help improve the all-important yield rate.
Despite the addition of the IC Compiler 2, Samsung still expects to mass produce 10nm chips during the fourth quarter of 2016. That is one quarter after TSMC is scheduled to have its 10nm chips rolling off of the assembly line. TSMC watched Samsung grab orders for 16nm and 14nm FinFet production, and hopes to score a competitive advantage for 10nm. At stake is the opportunity to win huge orders for the A11 SoC that will likely power the 2017 iPhone and iPad.
Billions of dollars are at stake. Recently,
a couple of HSBC analysts predicted that TSMC will win 100% of the orders for the A10
, bringing in as much as $2.5 billion in revenue for the company.
source:
BusinessKorea
via
GforGames