Samsung VP says Windows (Phone) 8 will allow it to get a foothold with business customers
12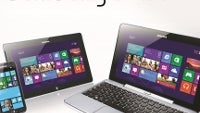 Samsung's UK vice president of IT, Graham Long, said in an interview that they think of Microsoft's launch of Windows 8 and WP8 as a great opportunity for his company to appeal to business users.
He may have been referring to a recent ThinkEquity survey of 100 senior IT managers in the US, half of who said that they are considering to build their enterprise ecosystem around Microsoft's new operating systems, including the RT gear, and Windows Phone 7.5/8 devices.
The launch of Windows 8 really provides us with that opportunity where we will have everything from a smartphone through to a tablet through the PC through to the all-in-one. For us it provides a unique opportunity at the time of launch to go out to the market and showcase everything we have that's available.

In discussions we've had with IT directors and chief information officers we've been able to tell them we'll be able to provide a smartphone, a tablet, a PC and an all-in-one utilising the IT they've built their business on for the last 25 years. What we're seeing with the launch of Windows 8 is, from a computing and smartphone perspective, the ability to move into that space and have a competitive advantage.