Samsung is bringing super fast smartphone storage in 2019, even faster RAM in 2020
22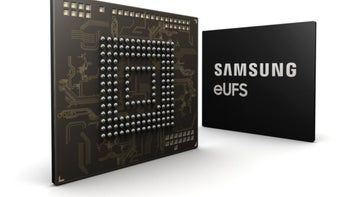 While some technologies progress incrementally, providing a steady increase in performance, others do so in leaps, bringing massive improvements once every few years. The latter is the case when it comes to storage and RAM. Samsung, being the leader in memory module manufacturing, showed us when we can expect the next "leap", when it comes to smartphones. This happened at an event in Hong Kong, hosted by Qualcomm and focused on 4G and the
upcoming 5G
.
During a presentation by Samsung's head of mobile memory product planning, it was revealed that the next generation of flash storage, called UFS 3.0, is coming to mobile devices in 2019. If you want to learn more about UFS and the current standard used, UFS 2.1, you can check our
article that explains what that's all about
.
In short, UFS is the type of storage that modern smartphones use for everything from the operating system to photos and videos. Every memory chip has a maximum speed at which it can read and write files, higher speeds make your device feel snappier and more responsive. UFS 3.0 chips will be manufactured using Samsung's latest 3D NAND technologies and will allow the company to not only cram more storage into the same size, but also make them two times faster.
The first wave of the new chips will come in three variants: 128GB, 256GB and 512GB, with 1TB option expected in 2021. This means that we'll soon say goodbye to flagship phones with 64GB of storage, as we should have a long time ago. On the other hand, that might be used as another reason for manufacturers to hike up the prices. Either way, the new chips are not only coming to shed a few milliseconds here and there but are considered a necessity with the introduction of 5G and ultra-high-definition (and high FPS) video recording and playback.
Another major advancement is coming in 2020 in the form of LPDDR5 RAM. Samsung's DDR5 memory will have a significantly improved maximum bandwidth: 51.2GB/s (currently around 25GB/s), while at the same time being 20% more power efficient. RAM is also very important for the performance of your handheld device, since that's where it stores the apps you're currently using, among other things needed for its operation. The switch to LPDDR5 will be the first major memory upgrade phones will see since the introduction of LPDD4 in 2014.
Needless to say, those components can't come fast enough, but it appears we'll have to wait at least a few months before we get our hands on a UFS 3.0 phone and even more before we can experience the faster memory.