Samsung Pay lands in Spain without its best feature
20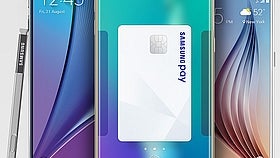 Having launched in Samsung's home market of South Korea and the US in 2015 and then to China this past March, Samsung Pay is now open for business in Spain.
Spain is the first country in Europe to get Samsung's booming mobile payment platform, which is a notable milestone for Samsung. Unfortunately, however, Samsung Pay will launch in Spain without what many consider as its single best feature.
While notable, Samsung Pay's expansion to Spain is not unexpected; back in early January 2016, Samsung announced that its mobile payment platform will make its way to the
UK, Spain, and Australia
at some point in the future.

CaixaBank and ImaginBank are the only two launch-day Samsung Pay bank partners in the country, but Samsung says that support for cards from two other Spanish banks – Abanca and Banco Sabadell - is on its way.
As far as device compatibility is supported, Samsung Pay is usable in Spain on the Samsung Galaxy S7, S7 edge, Galaxy S6, S6 edge, and S6 edge+. The mid-range Samsung Galaxy A5 (2016) is likely to gain Samsung Pay compatibility in the upcoming weeks.

Unfortunately, it looks like the most notable Samsung Pay feature will not be available in Spain. As was previously rumored for the UK launch of Samsung Pay, the platform will come without support for conventional magnetic POS. What this means is that Samsung Pay will only be supported at NFC-compatible payment terminals.

In the US, the main advantage that Samsung Pay holds over competitors such as Apple Pay or Android Pay is that the platform supports traditional magnetic stripe payment terminals, a feature that makes Samsung Pay compatible with nearly all payment terminals used by US retailers. At this point, it's unclear why Samsung has stripped the feature away in Spain, although the answer probably has something to do with EU or local regulations, technical setbacks, or the preferences of local partners.
Recommended Stories