Deal: Samsung Level On wireless headphones are on sale for just $50 (75% off) on eBay
8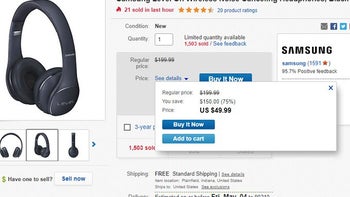 Samsung's Level On
wireless noise-canceling headphones
aren't the best in the $200 price range, but they're definitely a good alternative to more expensive ones. However, when the price drops to less than $50, you don't have to think about how good they are since you'll most likely get your money's worth.
For a limited time, Samsung is selling these
Level On
wireless headphones for $50 on eBay, which is an amazing deal considering they usually sell for no less than $200. Up until now, Samsung sold a little more than 1500 pairs of headphones, which is 56% of its entire stock.
Although the South Korean company is saying a limited quantity is available at this price, it should be plenty for at least more than 1000 consumers going forward. The headphones are only available in black sapphire color, but you're likely to get free standard shipping if you live in the United States.
In fact, that's the only place where Samsung's Level On
wireless headphones
are being shipped, so if you're located in another country, you won't be able to buy them. Finally, the products are brand new, unusual, and unopened, so you there's no catch to the deal.