Samsung Infuse 4G Speed Tests
21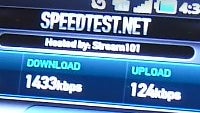 At the press
event held in New York City for the Samsung Infuse 4G
, both Samsung and AT&T executives touted the speedy abilities of the handset since it'll be the carrier's very first device featuring
HSPA+ Category 14
, which should get theoretical speeds of up to
21Mbps
. Moreover, unlike the HTC Inspire 4G and Motorola ATRIX 4G before it, the Infuse 4G will have
HSUPA
on board at launch. Seeing that we now have the device in hand, we're just curious to see what kind of speeds it'll put out right now – prior to launch.
Using
Ookla's SpeedTest.net app
, we first initially ran the test while at Samsung's press event in New York City. Knowing that the network could potentially be unpredictable, especially in a metropolis like New York City, we still forged ahead and ran the speed test nonetheless. Unfortunately though, the results are far away from being admirable, since it's given that prestigious "4G" moniker in its name, namely due to the lackluster numbers it's able to put out. Specifically, we got download speeds ranging from
114kbps to 188kbps
, while upload speeds hovered around
49kbps to 625kbps
.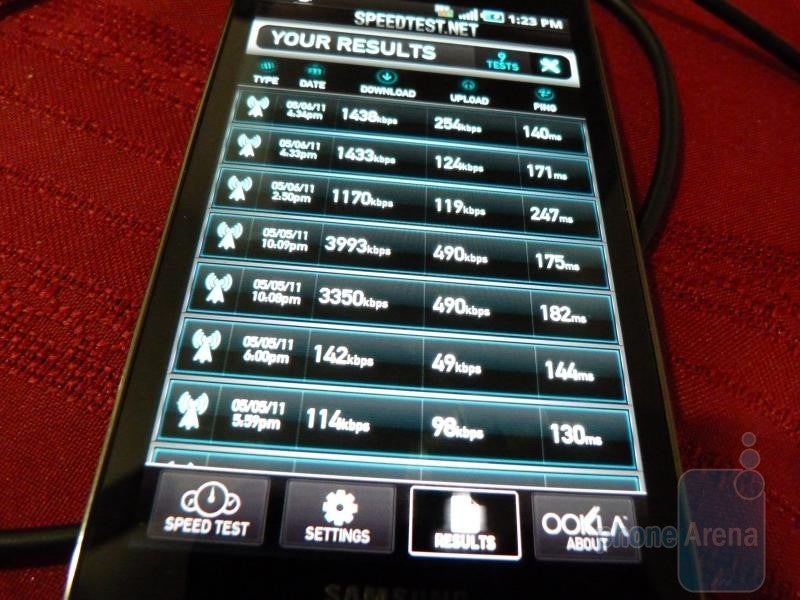 After that, we decided to test it later again, but instead, we did it this time around in the greater Philadelphia region. Interestingly enough, download speeds improved dramatically with speeds ranging from
1433kbps to 3393kbps
, while upload speeds marginally improving to
119kbps to 490kbps
.
At this point, it's unclear whether or not the Samsung Infuse 4G in our possession has the final software version, but we'll be keeping a close eye as we approach launch date since it's mentioned that it'll be HSUPA enabled at launch. Let's cross our finger because right now, T-Mobile's HSPA+ speeds in our area, is by far demolishing what AT&T is touting with the Samsung Infuse 4G.